A & W Communications now has two full-service tower crews to serve you.
We erect new towers of all types and sizes, including "flagpoles" in areas with restrictions on new tower construction.
We install antenna systems and tower light monitoring systems.
We perform tower site inspections, providing the customer with a detailed report as well as photographs.
We provide sweep testing. We use the finest Anritsu testers to provide FDR transmission line and antenna testing.
We provide tower maintenance and repair. We plumb and tension towers of all sizes, relamp towers, and provide any other tower service you may require.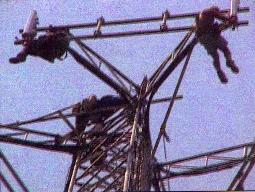 If you would like to solicit a bid, or consult with us on a project, call us at 800-530-5763 or email Tom White, President of A & W Communications, at twhite@aw-comm.com.